Warhammer : Mark of Chaos - New Games Workshop RTS!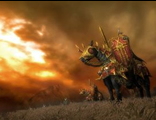 Thats right, the Games Workshop have decided to license a new RTS game, this time set in the fantasy Warhammer universe...

Warhammer : Mark of Chaos is being produced by Black Hole Entertainment, though no release date has yet been set.

Unlike most RTS games, where you will start from scratch with each new battle, in Mark of Chaos you keep your army from battle to battle and the army you finish the game with is the same army that has battled with you throughout the whole campaign, so there is a premium on keeping your veteran units alive and keeping your Champions healthy.

In multiplayer, you can do all of the above customisation of your army, and you can also customize everything about the look of each unit. The editor allows you to paint your army any way you want, create a custom banner for them, and further customize every aspect of how they look, form the armour they wear to the type of beard they have on their faces.

The storyline itself has been described by the games lead producer: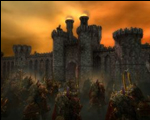 Chris Wren: The storyline for Mark of Chaos begins at the end of the Great War between the Empire and Chaos. In Warhammer lore, Magnous the Pious of the Empire has struck down the Chaos leader Aasavar Kul using his Hammer imbued with the spirit of Sigmar, an Empire god. With their leader slain, the Chaos army has broken into small tribes and war bands and is left scattered throughout the northern Empire. The leaders within the Empire are left squabbling for power all the while a corruption of Chaos from within the Empire begins to take hold and the Chaos forces scattered about begin to search for a new leader.

You will take up the role of either an Aspiring Champion of Chaos or the Empire to begin this struggle. On the Empire side, you begin as a lowly commander forever hindered by your family's dark past, your father and entire family has been once accused of being in league with Chaos and your entire family bears this mark. You must prove your worth to the Empire by leading its forces to victory over the Chaos Hordes to regain your family's honour. Should you begin the game by choosing Chaos, you will start as an aspiring Champion but without an army and you must challenge the other tribes of Chaos to earn their respect and loyalty by defeating their leaders, with this you will build your army and restore the taint of Chaos that once plagued the Empire.

For more information see CVGs interview with Chris Wren HERE.

ill be getting it!







Copyright ©2002-2022 Alex Galbraith
Version 2.2 Build 10