Battlefield 2142 Northern Strike - More info!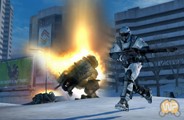 Here is some more news on the upcoming release of Battlefield 2142: Northern Strike :-

Battlefield 2142™: Northern Strike introduces two new vehicle types. The heavy IFV Goliath is a massive, slow-moving firing platform available to the EU. It is used to provide cover, as well as health and ammunition, to nearby infantry. The fast-moving hovering light IFV Hachimoto, available to the defending PAC only, is an efficient vehicle killer when staffed by a well coordinated pilot/gunner team.

With ten new unlocks and ten new awards, Battlefield 2142™: Northern Strike offers unprecedented persistence for a Booster Pack. The epic Titan mode introduced in Battlefield 2142™ is available on two maps, and for the first time in an urban setting. All maps also feature Conquest mode with the Conquest Assault Lines set-up, in which the attacking army now has to conquer all control points before taking the enemy's main base.
Key Features

* Fast–paced, infantry-focused gameplay boosts the intensity of the all-out war experience.
* Three new maps set in Europe, where snow-covered post-apocalyptic cities and a ridge in the Alps become the new battlegrounds.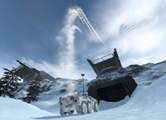 * Two brand-new vehicles designed to support infantry combat available in an asymmetrical set-up, with the hovering light IFV Hachimoto available to the PAC and the massive heavy IFV Goliath available to the EU.
* Increased persistence. Ten new rewards, one new pin and ten new unlock items at the top of the unlocks trees, available also on core game maps, take persistence to new levels. Unlock credits earned in the booster pack can also be used in the core game.
* Epic Titan mode available on two maps, and for the first time in a urban setting, for more intense Titan gameplay.


* Tweaked Conquest-assault gameplay (Assault Lines game mode) on all three maps creates more choke points and more heated battles.
* Horizontal podding gives infantry additional ways of moving across the maps quickly

As you can see, Battlefield 2142: Northern Strike is going to be AWESOME! We will most definately be making a purchse...

For further info and news as it happens, visit our Battlefield 2142 clan page!


I recently read this in response to the new unlocks:

"I hope they make a nuke unlock"




"The Northern Strike unlocks will be available through Field Upgrade for all users who maxed out one or more unlock trees, but only players entitled to Northern Strike can unlock them permanently."

So non-payees of NS will still get unlocks!







Copyright ©2002-2019 Alex Galbraith
Version 2.2 Build 10